We are a unique music academy in the Fort Worth area because we focus on creating exceptional musicians through excellence in pedagogy and teaching in an enjoyable environment. While other musicians often teach as an extra job, musical instruction is our primary focus and passion.
Your Students Benefit From Our Unique Approach
Only The Highest Quality Instructors
Teaching is an art and a science. We want your student to excel, so we select only the most highly credentialed musical instructors in the DFW area to teach. Most are members of music educator's associations and guilds. This means they stay abreast of the newest methods of instruction and have incredible resources at their disposal.
Each of our instructors is kind and patient, offering only positive support for your student. We have years of experience with toddlers, elementary, teen, and adult students and tailor your lessons to your objectives. Want to become a concert pianist or instrumentalist? We can help. Looking to play or sing more for personal enjoyment and enrichment? You are equally welcome. Our instructors hold University degrees in music and music pedagogy.
A Free Introductory Lesson
We understand that you want to make sure your student is comfortable with their teacher and the environment. For this reason, we offer each new student a free introductory lesson where you can get to know us.
A Great Learning Environment
Many of us have memories of taking music lessons in someone's home while their dogs barked and family milled around in the background. These distractions do not create the best learning environment. We've chosen to create a beautifully appointed studio of excellence, with soundproofed lesson and rehearsal rooms and an in-house recital hall to eliminate the recital fees.
A Safe Place
We know that the safety of your student is paramount. We secure our facility with a keypad-only entry, ensuring only our students and parents access the facility.

Each of our instructors is fully background checked, and we have security policies and measures in place. It's also a safe place to learn emotionally. We treat each student with kindness.
Multiple Types of Lessons
We have a breadth of instrumental and vocal lessons available. We have both private and group lessons available. Group lessons provide financial savings while private lessons maximize your student's progress. Some students start in group lessons and migrate to private, while others start in private lessons from day one. Music theory classes for elementary, teens and adults, and music classes for toddlers are also offered.
Flexible Scheduling (Including Daytime Lessons)
Maybe you are retired and prefer a daytime lesson. Perhaps your child is homeschooled, and you'd prefer your lesson during school hours as part of their curriculum. Or maybe your teen is also an athlete who needs a lesson schedule that doesn't conflict with practice. Maybe you have two students who take different lessons but want to have them simultaneously to make your schedule less hectic. We have flexible scheduling options and will do our very best to find the time that best meets your needs.
Your Student Will Run Excitedly to The Door
We see it time and time again. Students sprint from the car to our front door with giant smiles on their faces because they are excited about learning. (Yes, even our adult students occasionally run.) And they'll get a high five on the way out. Your student's enjoyment and progress are what make us happy!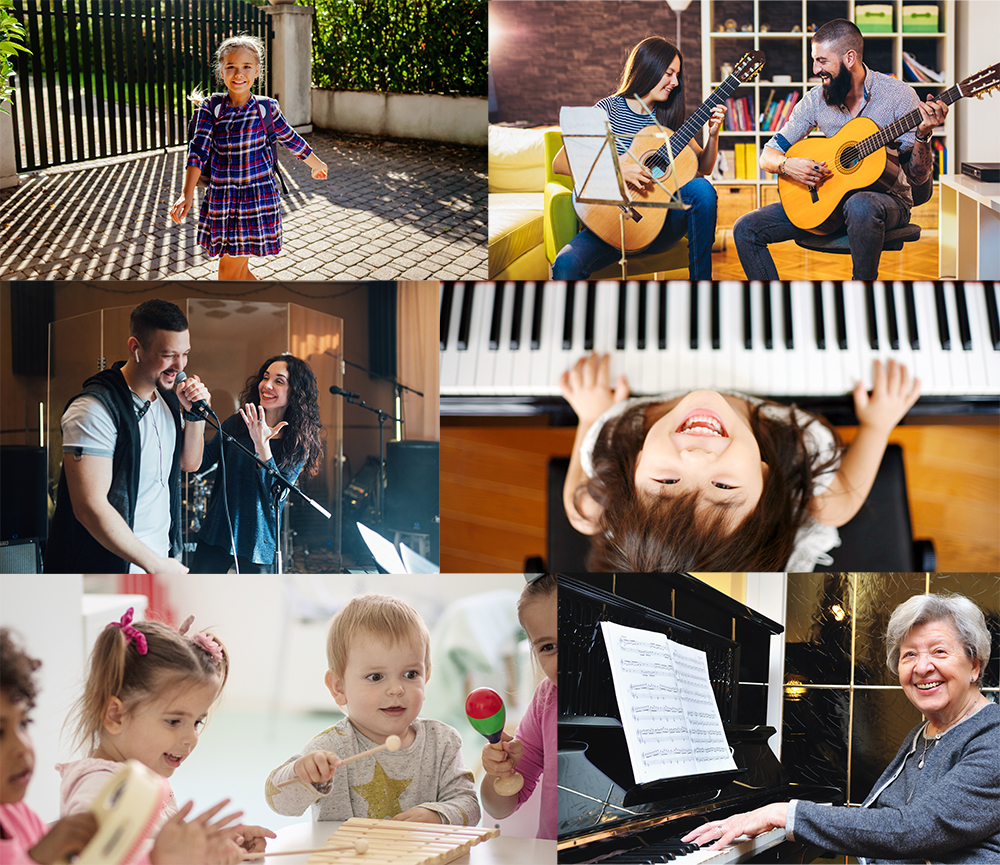 Get started today with a free
introductory lesson!
Contact Us